MES COSMÉTIQUES FRANÇAIS
Organic beauty box - Vanilla bath
Toute taxe comprise - Livraison en 3 jours ouvrés
My care kit that reminds me of my childhood!
This box contains 4 organic skincare products to take care of yourself :
1 surgras soap with almond milk and honey

1 vanilla caramel scented bath ball

1 Vanilla-scented sugar scrub
1 Vanilla fondant
Our commitments in this box :
CARE MADE BY FRENCH ARTISANS. In this box, you will be able to discover the know-how of a craftsman ofOccitania.
ORGANIC INGREDIENTS. All products are labeled Cosmos Organic, or bear the mention Slow Cosmétique
CLEAN FORMULAS. The products in the box are good for your body and your health. They do not contain any controversial ingredients
A RESPONSIBLE AND COMMITTED BOX

 

which promotes French know-how and promotes the economic development of our territories. To be offered or to offer.
To note :
If out of stock, we replace the product with an equivalent.

Préoccupation
Type de peaux
Savon surgras bio lait d'amande et miel
Description : Ce savon certifié biologique est fabriqué par saponification à froid et contient de a glycérine végétale émolliente (8%). Adapté à tous les types de peaux, ce savon au miel, au son d'avoine et au lait d'amande douce est recommandé pour les peaux fragiles et les démangeaisons cutanées. Ne contient pas d'huile essentielle: convient aux femmes enceintes.
Conseils d'utilisation : Frottez le savon avec vos mains et de l'eau. Appliquez le savon sur le visage et le corps humidifiés au préalable. RIncez à l'eau claire.
Liste INCI :Sodium olivate*, Sodium cocoate*, Sodium shea butterate*, Sodium castorate*, Aqua, Glycerin*, Prunus Amygdalus Dulcis Fruit Extract**, Mel**, Avena Sativa Meal Extract**

*transformés à partir d'ingrédients biologiques

**issu de l'Agriculture biologique
Boule de bain Vanille Caramel
Description : glissez-vous dans une bulle de détente ou rechargez les batteries avec cette bombe de bain Milky Milky. Sa douce odeur de vanille caramélisée vous caressera l'épiderme tout en vous offrant un véritable moment de relaxation.
Conseils d'utilisation : Plongez la bombe dans l'eau chaude du bain, se baigner et se rincer.
Liste INCI : sodium bicarbonate, citric acid, sodium, cocoyl isethionate, aqua (water), butyrospermum parkii (shea) butter*, coconut acid, sodium isethionate, parfum (fragrance)
*Ingrédient d'origine biologique
Label : Cosmos Organic
Gommage au sucre vanille
Description : Délicatement parfumé à la vanille, ce gommage procure une exfoliation d'une finesse absolue. Enrichi au sucre, au beurre de karité et aux huiles végétales, il exfolie et hydrate la peau en profondeur. Ne contient pas d'huile essentielle: convient aux femmes enceintes.
Conseils d'utilisation : Mouiller la peau puis appliquer le gommage et masser de façon circulaire. Pour une exfoliation supplémentaire, insistez sur les zones les plus rêches (coudes, genoux, pieds). Rincer complètement et sécher en tapotant.
A noter : Ce gommage est suffisamment doux pour être utilisé sur le visage et sur le corps.
Liste INCI : Sucrose(1), Prunus armeniaca kernel oil*, Olea europaea fruit oil*, Cocos nucifera oil*, Butyrospermum parkii butter*, Persea gratissima oil*, Vanillia Planifolia Fruit Oil, Vanillia Planifolia Fruit Extract, Tocopherol, Helianthus Annuus Seed Oil.
(1) Sucre de betterave d'origine française

*issu de l'agriculture biologique

Fondant vanille
Description : Le beurre de karité et le beurre de cacao, très présents dans la formulation, laisse la peau douce et soyeuse. Un délicat parfum de vanille délicate et non entêtante! A utiliser comme des soins subtilement parfumés laissant la
peau souple, douce et parfaitement hydratée pour plusieurs jours. Ces mignonneries sont particulièrement recommandées pour le confort des peaux sèches.
Conseils d'utilisation : Les fondant peuvent être utilisés pour 1 ou 2 bains ou douches.




Dans le bain : laisser fondre entièrement ou partiellement (une fois retiré de l'eau, le produit arrête de fondre). Avec l'effet émolient du bain, le produit permet une hydratation très profonde des tissus.
Sous la douche : après l'utilisation d'un gel douche ou d'un savon Autour du Bain, passer la mignonnerie ou le cupcake sous l'eau. Il va commencer à «fizzer ». Appliquer sur la peau et rincer très rapidement. Une hydratation et un rendu très soyeux qui remplace une crème pour le corps et permet une souplesse de l'épiderme pour 48H. Pour une hydratation très rapide !
Liste INCI : Sodium Bicarbonate, Citric Acid,Theobroma Cacao Cocoa (seed) Butter,
Solanum Tuberosum Starch, Parfum fragrance), Butyrospermum Parkii (shea) butter, CI 26100, CI 47000, CI 60725, CI 61565.
Dans ce coffret, découvrez les artisans :
Autour du Bain (31555, Toulouse)
Corinne Plouviez-Resentera la fondatrice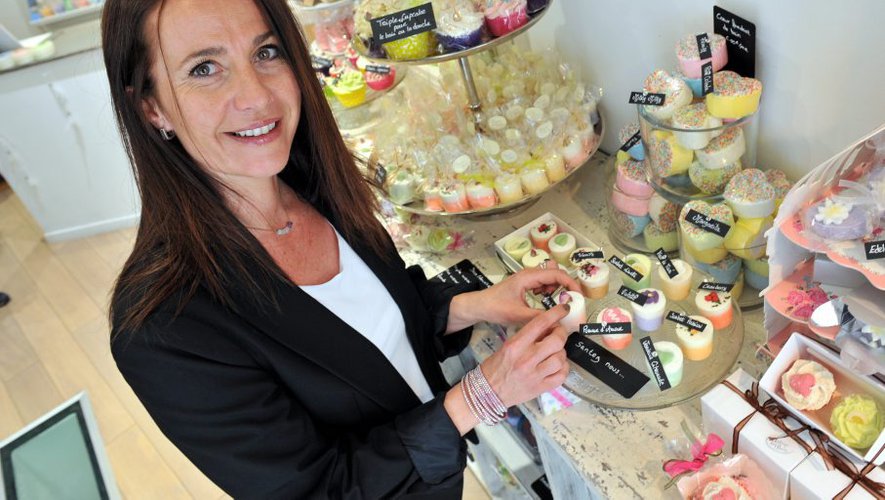 Découvrir tous les produits Autour du bain
Les essentiels (13, Saint Cannat)
Sébastien Beghin, Le fondateur
Découvrir tous les produits Les Essentiels