Gentle solid conditioner - Dry hair - Monoï - Wilmotte Cosmetics - 50g
Toute taxe comprise - Livraison en 3 jours ouvrés
Made in Provence. Effectively detangles the lengths, deeply nourishes the hair fiber and provides protection and shine. With Moringa Oil, Ximenia Oil, Murumuru Butter. Dry hair.
Our opinion: Its p

artum

 

monoi

 

transports us on an olfactory journey 

unique

 

and

 

divine,

 

reminding us of the sun, the beaches and the warmth of

 

summer.
Weight: 50g 

Préoccupation
Vegan
Type de peaux
Cet après shampoing-solide est conseillé pour les cheveux secs. Une synergie d'huiles végétales précieuses et des plus pures apporteront à vos cheveux toute la beauté dont ils ont besoin. Démêle efficacement les longueurs.
L'huile de Moringa Drouhardi Bio
L'huile de Moringa Drouhardi va contribuer à nourrir la fibre capillaire en profondeur. Les vitamines et minéraux contenus naturellement dans cette huile fortifient les cheveux et les font briller. C'est une huile riche en vitamine A,B,C,E.
L'huile de Ximénia Bio
Elle redonnera force et vitalité aux cheveux ternes et sans vigueur grâce à ses vitamines et nutriments. Elle va constituer un film protecteur autour du cheveu pour le nourrir, le protéger et lui redonner de l'éclat. C'est une huile très riche en acides gras.
L'huile de Marula Bio
L'huile de Marula apporte protection et brillance aux cheveux en les nourrissant sans les graisser. Apporte plus de souplesse aux cheveux.
Elle est concentrée en antioxydants, acides gras saturés et en vitamine C et E.
Le beurre de Murumuru Sauvage
Ce beurre végétal est hautement nourrissant. Il est recommandé pour les cheveux secs, abîmés, cassants, fourchus, dévitalisés. Il est réparateur, fortifie et embellit les cheveux. Ce beurre a la particularité d'avoir une très forte affinité avec les protéines du cheveu, ce qui lui permet une très bonne pénétration à l'intérieur de celui-ci. Il apporte de la brillance et de la volupté.
Poudre de Guimauve
Cette poudre favorise le démêlage des cheveux. Elle adoucit, gaine et protège les cheveux. Tout en les nourrissant, elle leur apporte volume et brillance.
Parfum Naturel de Tiaré
Ce parfum monoï nous transporte dans un voyage olfactif unique et divin, nous rappelant le soleil, les plages et la chaleur de l'été.
*L'après-shampoing est vendu sans le porte-savon.
PASSEZ LE BAUME SOUS L'EAU CHAUDE QUELQUES SECONDES. APPLIQUEZ LE SUR LES LONGUEURS ET POINTES APRÈS VOTRE SHAMPOING, SUR CHEVEUX MOUILLÉS.
COMMENCEZ DU HAUT DES LONGUEURS VERS LE BAS. PLUSIEURS PASSAGE SONT NÉCESSAIRES. LAISSEZ POSER QUELQUES MINUTES. DÉMÉLEZ, PUIS RINCEZ.
NE PAS UTILISER EN CAS D'ALLERGIE À L'UN DES INGRÉDIENTS.
NE PAS LAISSER STAGNER DANS L'EAU. EVITEZ LE CONTACT AVEC LES YEUX ET LES MUQUEUSES.
NE CONVIENT PAS AUX ENFANTS DE MOINS DE 3 ANS.
Liste INCI :
ARACHIDYL/BEHENYL ALCOHOL, ASTROCARYUM MURUMURU SEED BUTTER, ARACHIDYL/BEHENYL BETAINATE ESYLATE, ARACHIDYL/BEHENYL ALCOHOL/ARACHIDYL GLUCOSIDE, MORINGA DROUHARDII SEED OIL, SCLEROCARYA BIRREA SEED OIL, XIMENIA AMERICANA SEED OIL, PARFUM, ALTHAEA OFFICINALIS ROOT EXTRACT, LINALOOL, LIMONENE, BENZYL BENZOATE
Wilmotte Cosmétique (84, Vaucluse)
Stéphanie, la fondatrice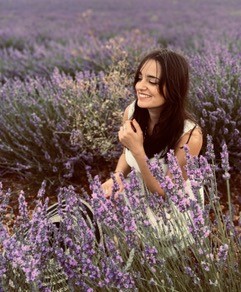 Découvrez tous les produits Wilmotte Cosmétique